If the economy is to develop, energy mining is inevitable.
The climate, which can no longer deteriorate, is doing its best.
So how should we deal with the garbage?
The earth can't digest it?
Let it go back where it is from!
Let humans help her to digest it!
In order to solve this worldwide problem, great scientists have developed a technology that can turn plastic "garbage" into textiles: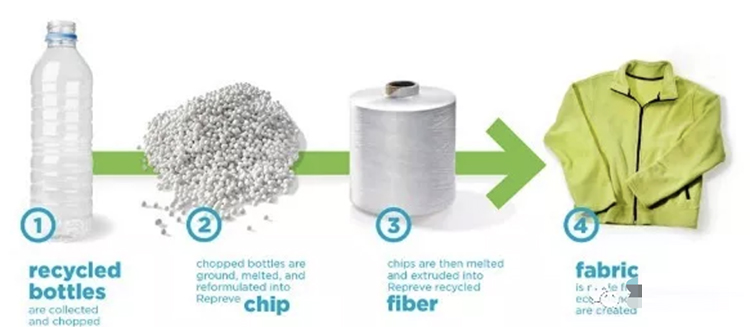 Whether it is plastic bottles or other plastic "garbage" can be reused through related technical processes, used in textile and apparel, automotive decorative textiles, filling materials and other products.
This process not only solves part of the "garbage" that the earth can't digest.
Can also reduce the exploitation of new resources
Two birds in one fell swoop!
Because the process of making fibers from the bottle is relatively mature
The textile and apparel industry begins first
First, we need to develop a set of implementation standards for recycling.
The first edition of the Global Recycling Standard was born (GRS V1)
After the passage of time
Years of polishing
Inadvertently
The GRS standard has been in its fourth edition until 2018.
Become more mature and stable
More comprehensive
The requirements for the supply chain are also more stringent.
But! ! !
No one performs, the effect is very poor.
These are good techniques and hard standards to improve the global environment.
Not vigorously promoting it is really a violent thing...
Someday later~
As a global non-governmental organization of textiles and clothing
The Textile Exchange takes on this responsibility
He is practicing the GRS standard
Foot on this "full of sores" land
Initiating an initiative for textile and apparel brands
As a fashion clothing brand to lead by example
Make the due commitment to the global environment
100 people respond to 1 call
In this way, the concept of regeneration is propagated among brands and suppliers.
Major brands have established relevant requirements
And promise to fully use recycled materials within 5-10 years
Since then
GRS is flourishing.
SHANGHAI TRANWIN MANAGEMENT CONSULTING CO.,LTD.
CONTACT: Mr. David Lee
E-MAIL: chaowang@tranwin.net(prefered)
MOBILE:18601633226
TEL: 0086-21-51029391 
WECHAT: LISHUNDAO
ADD: No. 655 Yinxiang Road, Nanxiang Town, Jiading District, Shanghai
The Leading Factory Audit Consulting Company from China to Asia