How to obtain FSC certification?
Source: TRANWIN
2019-06-25 14:19 by admin

Read: 387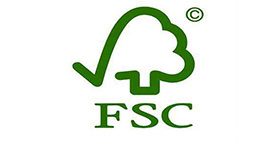 In recent years, due to the destruction of large areas of forests, environmental problems have become increasingly prominent, desertification and soil erosion have become more and more serious. People are more and more aware of the importance of forests to human beings. Forests can conserve water and maintain soil and water, adjusting the temperature, reducing the wind speed, increasing rainfall..., more and more people are joining the plan to protect the forest and plant trees. At the same time, a new certification has appeared in the timber and furniture industry - FSC certification.
The FSC itself does not issue any certificates, and the certification process is carried out by an independent certification body. These certification bodies assess forest management and chain of custody activities in accordance with applicable standards of FSC. Only FSC accredited certification bodies can be authorized to issue certificates.
There are five steps in the FSC certification:
Step 1. Contact one or more FSC-accredited certification bodies. The certification body needs some basic information about your organization to make a preliminary estimate of the required certification cost and time. The certification body will provide you with information about the FSC certification requirements.
Step 2. Select and sign an agreement with the cooperating certification body.
Step 3. Implement a certification audit to assess your company's certification status.
Step 4. The data collected during the audit process is the basis of the audit report, and the certification body makes the certification decision based on this report.
Step 5. If the certification decision is yes, you will get an FSC certificate.
If the audit shows that your organization has not fully met the FSC requirements, the certification body will conduct a further audit of your company after completing the proposed changes to the certification report.
The FSC certificate is valid for five years. However, FSC-accredited certification bodies will implement an annual surveillance audit to verify that your company continues to comply with FSC certification requirements.
Whether you want a forest management certification or a chain of custody certification, the above steps apply.
SHANGHAI TRANWIN MANAGEMENT CONSULTING CO.,LTD.
CONTACT: Mr. David Lee
E-MAIL: chaowang@tranwin.net(prefered)
MOBILE:18601633226
TEL: 0086-21-51029391 
WECHAT: LISHUNDAO
ADD: No. 655 Yinxiang Road, Nanxiang Town, Jiading District, Shanghai
The Leading Factory Audit Consulting Company from China to Asia