What is FSC?
Source: TRANWIN
2019-06-27 15:29 by admin

Read: 1108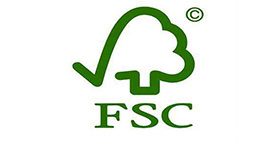 FSC-Forest Stewardship Council and is a worldwide non-governmental organization recognized by the world. Its goal is to achieve sustainable forest development by promoting environmentally friendly, socially harmonious and economically effective management. As a large organization, FSC does not perform certification work itself. Its main task is to develop standards and to evaluate, authorize, and monitor certification bodies. The FSC Certification is a standard introduced by the Forest Stewardship Council.
Forest certification, also known as timber certification or collective certification, is a sustainable operation that uses market mechanisms to promote forest certification and is a tool for achieving the goals of ecological, economic and social sustainable development.
Forest certification provides consumers with a unique guarantee that forest products come from well-managed forests. It attempts to improve the forest management level and the market share of the mining industry by "green consumption" and demand through independent evaluation of forest management activities. Connected to operators with higher interests.
The Rainforest Alliance, referred to as RA, was founded in 1987 and is headquartered in New York, USA. It is a non-profit international organization and a partner in forest certification in the new century.
RA has regional offices in nine countries around the world, with more than 1,000 offices in 50 countries. RA is the world's first forest certification agency and has issued nearly half of the world's FSC certification.
SHANGHAI TRANWIN MANAGEMENT CONSULTING CO.,LTD.
CONTACT: Mr. David Lee
E-MAIL: chaowang@tranwin.net(prefered)
MOBILE:18601633226
TEL: 0086-21-51029391 
WECHAT: LISHUNDAO
ADD: No. 655 Yinxiang Road, Nanxiang Town, Jiading District, Shanghai
The Leading Factory Audit Consulting Company from China to Asia